T.J. Oshie scoring a hat trick the day after his father passed away, Ryan Miller's retirement, David Backes' last game in St. Louis, Michael Houser making his NHL debut at age 28. In a week filled with great storylines, the NHL once again found itself grappling with the biggest loss of control its faced all season.
How it started
These scrums happen every game. A player pokes the goalie late, someone takes exception, players partner up, a little wrestling happens, maybe a player ends up on the ice. What happened between Tom Wilson, Pavel Buchnevich and Artemiy Panarin exceeds the scope of what hockey as deemed as acceptable post-whistle play.
This is what happened.
In the second period on the Capitals-Rangers game on May 3, Rangers forward Pavel Buchnevich was battling for a loose puck in front of Capitals goalie Vitek Vanecek. During the play, Buchnevich tussled with some Ranger players (including Wilson) and fell stomach first to the ice. Wilson then punched Buchnevich in the back of the head.
Ryan Strome went to pull Wilson off of Buchnevich immediately following which led to a scrum. Wilson connected a punch to the body of Strome, leading to Panarin jumping on Wilson's back. The two peeled away from the main conflict. The two eventually came face-to-face, with Wilson pulling off Panarin's helmet, yanking him to the ice by his hair. As Panarin attempted to get up, Wilson then punched him (gloves on) in the face twice while he is on the ice without a helmet.
Now, was this anything similar to Wilson's 20 game suspension? No. It's a much different play with a much different lead up. Was it suspendable? I can't see how not. Scrums and battles happen nearly every game, but punching defenseless players in the back of the head while they're down on the ice, grabbing and throwing an opponent by their hair, slamming a helmet-less player to the ice? These do not happen every game.
If Panarin's shoulder isn't the main point of contact on Wilson's initial hair-pull, he would have easily sustained a potentially career-ending head injury.
To me, a suspension for the rest of the season and one or two playoff games would have been enough to satisfy the bloodlust from the Rangers and fans. Instead, we got this.
The Response From the League
Wilson was handed a $5,000 fine for the incident with Buchnevich. He faced no disciplinary measures for the altercation that led to Panarin being injured for the rest of the season (even if the season is nearly over and the Rangers aren't a playoff team.)
As you can imagine, both teams and fans of the sport took this very well.
The Response From the Rangers and Capitals
The Rangers responded by promptly putting out a statement (apparently without the blessing of both their President and GM) saying that the organization was "extremely disappointed" in the lack of punishment. They followed that up by calling for current Head of Player Safety George Parros to be fired.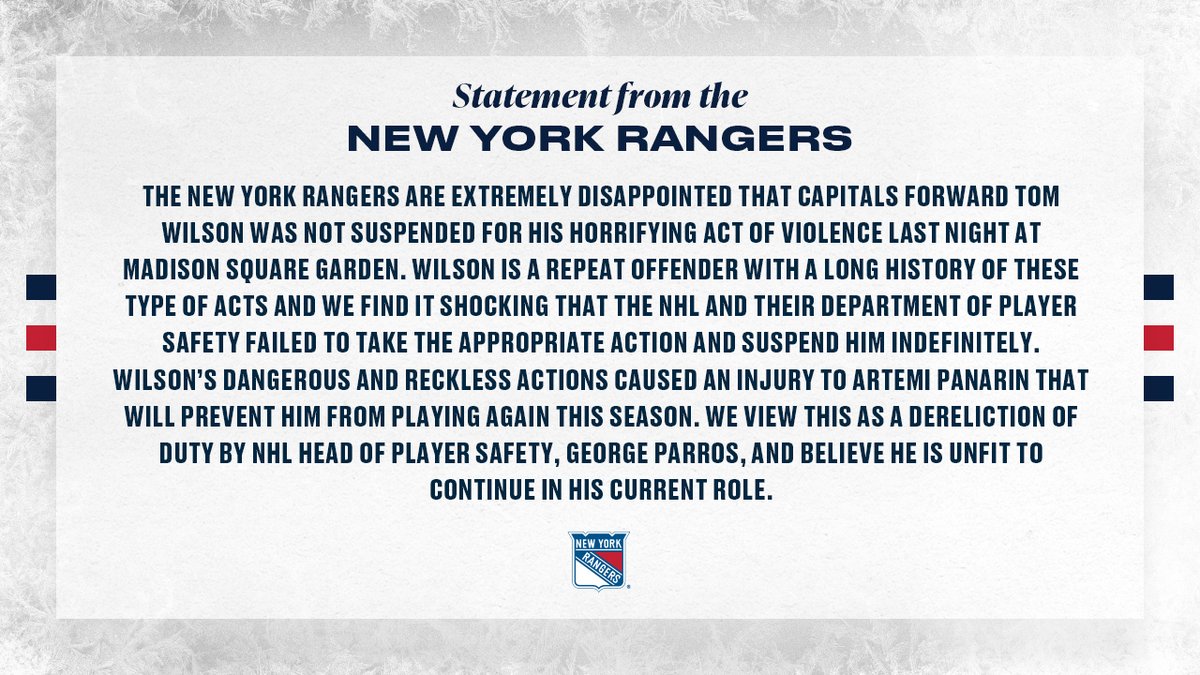 Originally tweeted by New York Rangers (@NYRangers) on 4 May 2021.
The day after their rematch with the Capitals, the NHL fined the Rangers $250,000 for that statement.
Players weren't happy either. Mike Zibanejad said, "I figure you should have more respect for the game and for the players. It's just horrible. Zero respect. I don't know why I'm surprised. It's just horrible."
The Capitals were forced to delete a Tweet that literally could not have been posted with worse timing.
Obviously, Washington isn't going to throw their own player under the bus, so their silence is to be expected. For the Rangers, this is the first time a big-market team has spoken this brazenly about the DoPS. Maybe this identicates a potential change for the department.
Tom Wilson Previous History With the DoPS
Since being drafted in the first round back in 2012, Tom Wilson has been suspended by the league five times and fined three times, including this most recent one.
Sept. 22. 2017: Two preseason games for a hit on Blues forward Robert Thomas. Up until this point, Wilson avoided discipline, such as a hit on Brayden Schenn in 2013.

Oct. 1, 2017: The NHL suspended Tom Wilson for four games for boarding Sammy Blais, also of the Blues.

May 1, 2018: Three playoff games for an illegal check to the head of Zach Aston-Reese (Penguins).

Sept. 20, 2018: Tom Wilson was initially suspended 20 games for an illegal hit to the head of Oskar Sundqvist, also of the Blues. Eventually, Wilson was able to reduce that suspension to 14 games via an appeal.

March 6, 2021: Earlier this season, the NHL suspended Wilson seven games for a hit on Brandon Carlo of the Bruins. In that case, Wilson decided not to appeal the suspension.

May 4, 2021: On Tuesday, the NHL fined Tom Wilson $5K for the incident involving Buchnevich.
Tom Wilson received a fine for kneeing Conor Sheary back in 2016. In March 2015, the NHL fined Wilson for embellishment/diving.
Pandemonium
What did we expect.
This game was going to be the ugliest one we've seen since probably the Vancouver Canucks v. Calgary Flames shitshow from 2014. We all knew it. It's why we all tuned in. It's why NBC hyped the hell out of it. And we got what we were promised.
Off the opening draw, we got three fights. Kevin Rooney (NYR) vs Nic Dowd (Caps), Phillip Di Giuseppe (NYR) vs Garnet Hathaway (Caps) and Colin Blackwell (NYR) vs Carl Hagelin (Caps). Right afterwards, Wilson took his first shift, made it about three strides before being jumped by Rangers' Brendan Smith. Smith held in the bout pretty well actually to his credit.
Anthony Bietto (NYR) would take on Michael Raffl (Caps), and Ryan Strome (NYR) dropped the mitts against Lars Eller (Caps). All this in the first five minutes of the first period.
Wilson would exit the game with an "Upper Body Injury", a falsehood so blatant that Capitals coach Peter Laviolette's nose actually turned to wood and grew. It was the sanest decision of this whole fiasco.
The Rangers don't have any heavyweights on their roster. And they shouldn't. In 99% of all hockey
When you don't take care of making what seems to be simple suspensions, you force teams to police themselves in an eye-for-an-eye type of blood fight. It's how you get skill players like Buchnevich making plays like this.
By not suspending Wilson, the league forced the Rangers to police the issue themselves, a situation that never ends well. This only happens in this way when teams and players feel like the league isn't protecting them.
The fact that the Rangers don't have any real heavyweights to fight Wilson means that they're forced to either A) Call up some poor soul who would have never sniffed the NHL otherwise to fight Wilson B) Do nothing and be labelled as "soft" and "pushovers", a fate worse than death in hockey, or C) Do what ended up happening, fight at every opportunity, force Brendan Smith to punch above his weight class and take on Wilson. All to make a farce of the game and the sport in protest of the lack of decision.
If you have Lars goddamn Eller fighting, you know something has gone horribly wrong.
Why Suspending Him Mattered
It would have shown that the DoPS is willing to actually hand out punishments instead of constantly slapping wrists. They made the correct call on the Shayne Ghostibehere hit by suspending his 2 games. What prevented this play from receiving the same type of swift and effective punishment?
Flyers Shayne Gostisbehere suspended two games for late hit.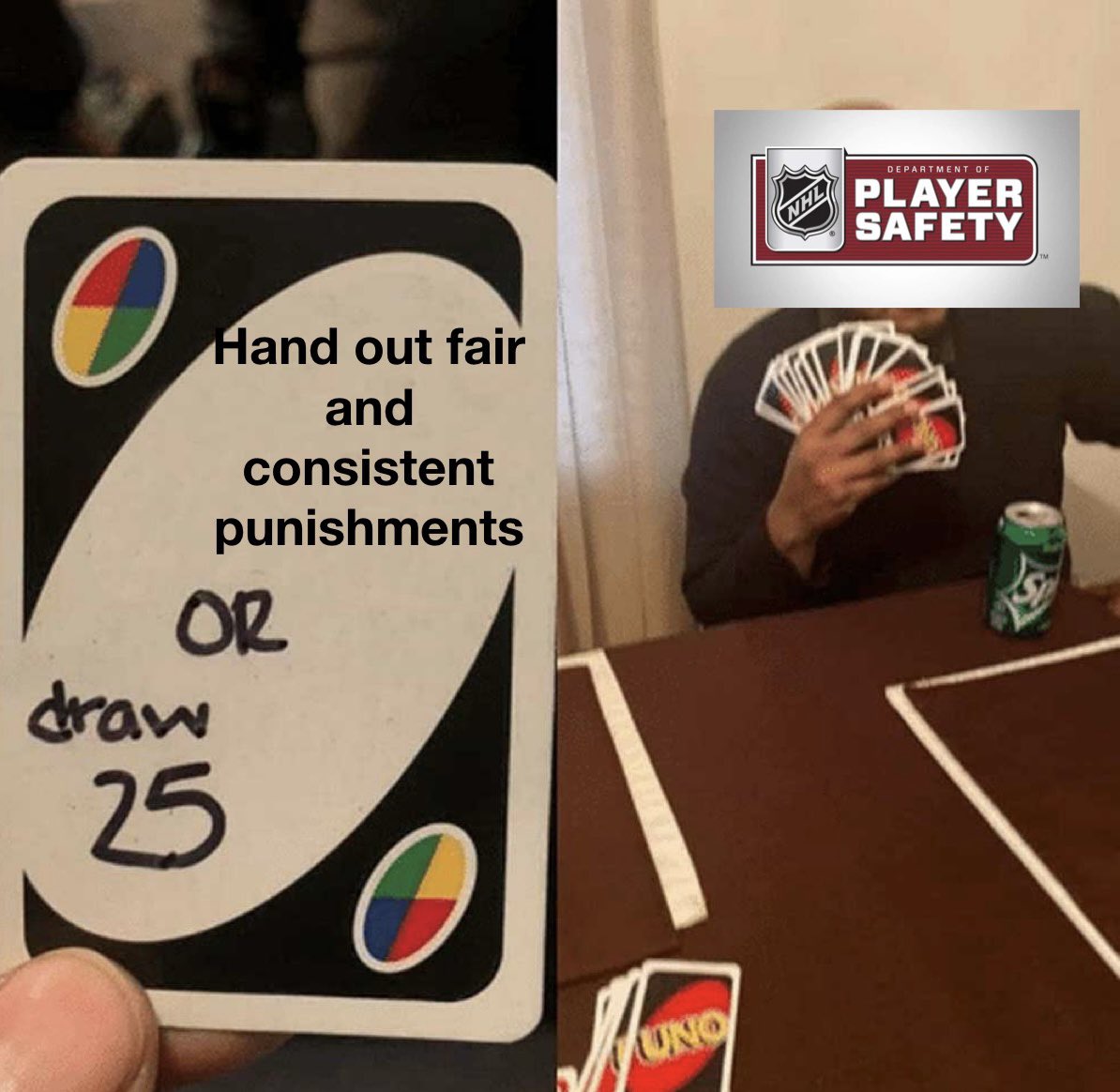 Originally tweeted by Nasty Knuckles (@NastyKnuckles) on 5 May 2021.
The League's Disciplinary System Needs Change
It wasn't long ago that Brendan Shanahan was head of the DoPS and was handing out lengthy and fair suspensions. The owners and GMs complained endlessly, and ever since the department has lacked real teeth.
Despite the 20-game suspension, Tom Wilson has avoided suspension more times than he's deserved to have been punished, and even if this latest incident isn't his worst, the non-response is unsurprising. Which isn't good.
This was a near-consensus suspendable offence, and instead are left to watch two teams beat each other to a pulp because the league's disciplinary branch was proven ineffectual.
Does Rangers owner James Dolan have the sway to enact any real change? Who knows. But having one of the biggest markets openly voice their displeasure could be the final straw. Parros is a smart guy. He knows what the league wants and is giving them exactly that. He owns a brand called "Violent Gentleman" for Pete's sake. His position on these matters cannot be clearer, but again, this is what the league wants. They appointed him for that very reason.
It begs the question though, what would have it taken for Tom Wilson to have been suspended? Panarin cracking his head open on the ice? Buchnevich breaking his neck? These are extremes, but this is an extreme situation.
The DoPS needs to sharpen their blade and start protecting its players. The NHLPA needs to remove these "fines" and introduce significant financial punishments. Tom Wilson makes over $5 million a year. Do we really expect that to deter any player?
NHL Player Safety watching the Rangers-Capitals first period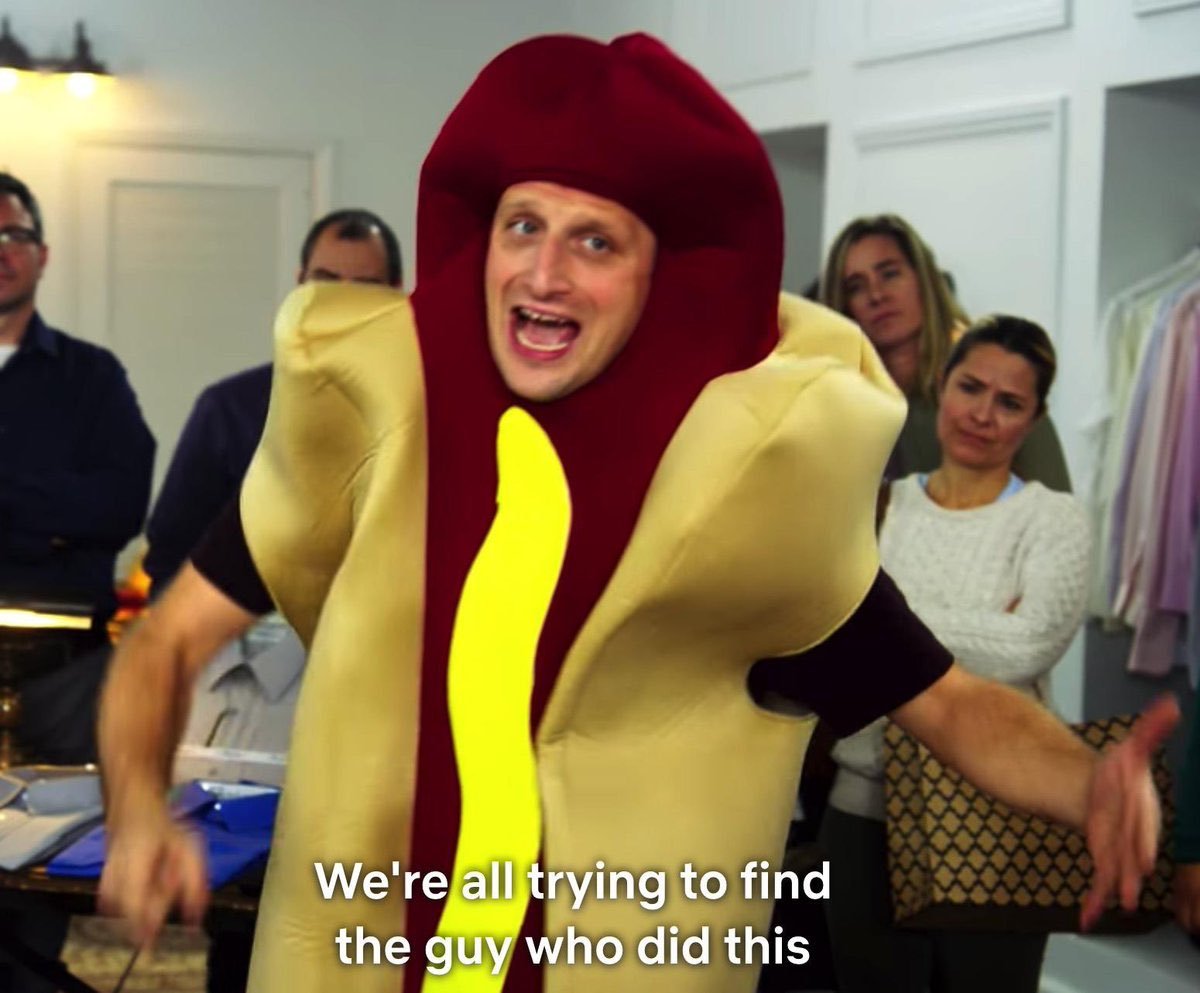 Originally tweeted by Andrew Battifarano 😷 (@AndrewAtBatt) on 5 May 2021.
Where Do We Go From Here?
Sean Gentille of The Athletic wrote probably the most poignant take on Tom Wilson, so I suggest reading that. But the gist is, Wilson knows exactly what he's doing, he knows exactly how to get away with it, and his team is paying him to do exactly this. He's such an effective player, that it's even more frustrating when he resorts to this type of goon-ery.
For the DoPS, hopefully this is a turning point. One major consideration should be making the department independent of the league, similar to an arbitrator for RFA and contract disputes. The head of the DoPS, whether it be Parros or anyone who may follow, should have enough freedom to not be influenced by the league, its owners, or its GMs.
But honestly, who knows what's next. This can either lead to a complete reform of the DoPS, or status-quo reigns supreme. Enjoy some memes instead.
–